svaerm: Content Marketing Agency
Our content marketing agency offers you custom texts, videos and podcasts. We know how to target these using algorithms and target groups, and we'd be happy to explain how a contemporary inbound marketing approach can generate a steady flow of good-quality leads for your company. In the following, we discuss the possibilities and limitations of content marketing. We're always available to respond to specific requests.

Why not join our satisfied svaerm customers? You'll be in good company!
Existing customers
What makes good content
Good content generally meets three conditions:
It has optimal visibility, so it reaches potential customers.
It positions the company as a valued and competent source in its niche.
It is interesting, original and converts your target audience into customers.
A good content marketing agency creates content that fulfills all three of these criteria, meeting its clients' marketing objectives.
How to get there
The theory might sound easy but putting it into practice is a challenge. This is where most website operators and YouTube channels fall down.
We will explain later, in a separate article, the reasons behind the most common errors in digital marketing. What we do know for sure is that, as a content marketing agency, we need to identify different issues, demonstrate a new way of working, and establish better processes than most of the other players out there.
It's the only way we can bring our clients up into the top 10 %, or even the top 3 %, of organic content performance on the web.
Why svaerm?
We manage your project individually and provide editorial, creative and technical input. Our formula makes for successful content marketing.
We fulfill the search intent of your target audience
We analyze the content your target group expects to find using a particular search term in Google. That's their 'search intent'. We then create content that precisely meets your target group's search intent and presents your company authentically. That's how we position your website among the Google search results and brand you as its source.
Swarms of your users will view our content
Social media, YouTube and podcast platforms obey different rules. Since searching is only one aspect of these channels, the visibility of your content mainly depends on how users interact with it.
svaerm content marketing agency creates multimedia experiences that generate a buzz about your content.
We're convinced we need to give content some 'clickbait' characteristics, without disappointing your target audience. That's the only way content will be attractive enough to come back to – and repeat user experiences send a strong signal to algorithms, which will then use the content more frequently.
Passion makes for good design
Design adds value to a company and communicates their identity with real character. We make sure your content is as contemporary, responsive and mobile-friendly as possible so your target group enjoys spending time interacting with it. We create a look tailored to your CI requirements and the demands of today's internet users: it's sure to differentiate you from the competition.
A content marketing agency focused on conversion
Conversion rate optimization involves many different disciplines. There are
design factors such as screen and button design,
technical factors such as load speed and user-friendliness, and
and marketing strategy tools such as lead magnets.
But its most important factor is the content itself.
We therefore focus on offering your users something new and original. The key is often the 'degree of difficulty'. If the content is too simple, users jump ship because they're not seeing anything new. If the content is too advanced, they click away because they don't feel included.
Our network of expert editors create content relevant to your sector, with either a B2B or a B2C focus. Our individually tailored editorial content for your target audience is accessible for initial contacts, while being original enough for advanced users.
For specialist technical topics, we work with your in-house experts or external professionals. We turn your expertise into raw material for our texts: it's both storytelling and information transfer.
We offer multimedia content marketing
Content marketing samples
Kuraray: Specialty texts for B2B decision makers
We implemented an SEO-focused website relaunch for specialty chemicals company Kuraray. We led a year-round content marketing campaign that generated online visibility and inbound leads. It positioned the company among specialized technical and business groups as a skilled, innovative, high-quality leader in its sector. All website and blog texts were created by svaerm content marketing agency (as of 08/2021).
Ambiente: "A beautiful place"
Our film "A beautiful place" used a poetry slam and storytelling to increase the desirability of Ambiente, the international B2B consumer goods fair. It was targeted at trade visitors and exhibitors. The film formed part of a year-round content marketing campaign, taking in a wide range of channels: website, blog, e-mail, Facebook, Instagram, Twitter, YouTube and offline marketing. We used these to generate brand recall, newsletter subscribers, followers and leads.
Live from Messe Frankfurt
svaerm content marketing agency used a variety of live video formats for B2B trade fairs Ambiente, Christmasworld and Paperworld.
During the fairs, agile 3-person teams of project manager, presenter and camera/sound technician roamed around, reporting the action via Facebook Live.
During the pandemic, we've been producing films in the studio that are premiered on YouTube.
Both these formats give your specialist target groups an authentic taste of the event and make a visit more desirable.
Conzoom Solutions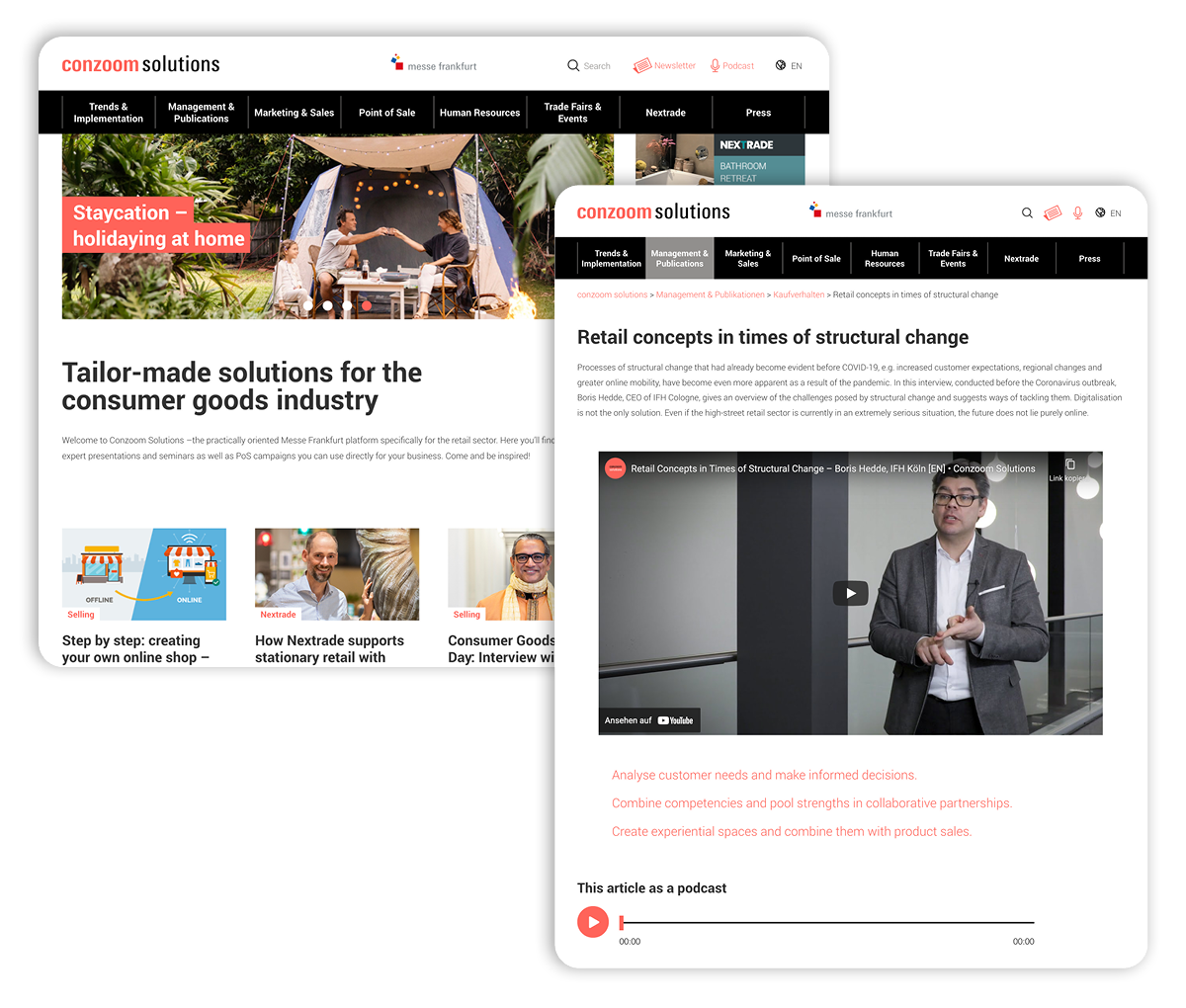 The e-learning platform Conzoom Solutions uses svaerm as its trusted content marketing agency. Our blog posts, advice articles, films and podcasts help retain its thousands of customers in the European retail sector. We provide the full package, from research into specific topics and sourcing speakers to publishing and marketing the content.
Our custom content marketing agency services
svaerm works effectively and strategically at all levels. We take on project management, design, technology, specialist editorial work and online marketing for both large companies and SMEs.
Successful content marketing relies on collaboration between specialists in various different disciplines. Very few companies have all the relevant specialists in-house. Even a small content marketing team will comprise a:
Project manager
Online editor
Social media manager
SEO specialist
Link builder
Marketing analyst
Conversion rate optimizer
Programmer
Web developer
Art director
Video and podcast team as required
With its team structure and market positioning, svaerm ideally meets the market's requirements since the most cost-effective solution is to engage a fully integrated content marketing agency.
Ask us for content marketing as part of your comprehensive package – or let us explain what fully integrated content marketing entails. These are the individual components:
Content strategy
We will draw up a content strategy based on your marketing concept and sales objectives. This will describe what your content marketing aims to achieve, what it can achieve, how and by when. Content marketing is a dynamic process which depends on algorithms.
How is your company positioned, and how should it be positioned?
What topics will interest your target groups?
Which channels will reach them most effectively?
Which keywords and search intent should you use?
How much prior knowledge should we assume your target groups have? How can we generate original new content to address and convert even well-informed users?
Which formats are suitable, what is the right frequency?
How much organic optimization, link building or advertising budget will you need for your marketing?
Content creation
We can provide your company with editorial services all year round, run a content marketing campaign for a limited period, or produce a single piece of content to trial our collaboration.
We tailor our text, videos and podcasts to meet the highest standards of visibility, structure, originality, interactivity and conversion rate optimization. Why not speak to us in person, with no obligation, so you can decide if we are the right content marketing agency for your project?
Want a video or podcast?
We're always happy to supply further information. You could visit the page where we describe our video and film production services or read more about our podcast productions (coming soon).
Content-Check
Is your content strategy effective? How highly does it score for visibility, conversions and branding? Would you like our expert opinion as a content marketing agency on whether – and how – we could improve your editorial content? We'd be happy to help.
Reoptimizing existing content
Has your organization been blogging for years with no regard for SEO, and expecting to garner visibility organically? Don't worry, just contact us! We often deal with this scenario.
We can update existing content, optimize it to include keywords, plan your links, weed out redundant content and focus our resources on the levers with the greatest potential.
Content briefings
You have the capacity, or want to expand your skills, to generate your own content in-house but you lack the online marketing expertise?
We'd be happy to research keywords for you, create briefings and editorial plans. Then your team can generate text, videos or podcasts themselves and optimize them for visibility and conversions. Once you've devised your content, we can view and check it, pass on our feedback and finalize it with you.
Content management in WordPress
If you'd rather not maintain your WordPress-based website in-house, why not outsource the content management to svaerm? As a content marketing agency, we have efficient workflows and a lot of practical experience, including multilingual websites with Japanese and Chinese content. Simply outline your requirements here and we'll get back to you shortly.
Internal links
Websites, YouTube and podcast channels can all benefit from better internal links. The svaerm content marketing agency can devise and implement an internal linking plan for you. The advantages are:
Longer user session duration
Improved organic visibility of your content in Google, on YouTube or on podcast platforms
Improved visibility for popular or strategically important content within your website or your YouTube/podcast channel
Please contact us for no-obligation advice.
Billing models
A lot of content marketing agencies tie their customers in to long contracts. We're flexible and offer a range of billing options: these include project-based quotations, retainers, and one-off or quarterly payments. Our sales team are happy to provide more detail on the various models and discuss which one makes sense for your project.
Marketing decision makers love svaerm
"The agency advised us very well and translated our objectives into a digital campaign strategy. […]"
Our content marketing process
We'd love to pay you a visit
Content marketing agency, Frankfurt
Technology
This is the software we will use for your projects:
Contact