svaerm WordPress agency
For us as a WordPress agency, it's crystal clear that WordPress is the number-one content management system (CMS). We have been using WordPress to create websites and redesigns in all shapes and sizes. This CMS, which started off as a modest blogging solution, has grown today into a sophisticated all-rounder.
From slim one-pagers to enterprise-level company websites with login area and complex interfaces, anything is possible with WordPress. Using WooCommerce, we also create online shops with outstandingly intuitive backends as well as a wide range of plugin options that meet the latest e-commerce requirements.
With over 60% CMS market share, WordPress is the undisputed market leader. As of October 2020, there are now actually more websites running with WordPress than without a CMS. By choosing WordPress as your CMS and svaerm as your WordPress agency, you are definitely making the right decision: As a specialist in the creation of custom websites, blogs and online shops tailored to your company's objectives, we deliver results of the highest quality.
Possible applications:
Corporate websites
Blogs and online magazines
Online shops mit WooCommerce
Multilingual websites
New projects and relaunches
Special applications:
Website switch from non-WordPress system to WordPress
Custom WordPress themes
WordPress plugins
Backup solutions
Complex integrations or interfaces?
Challenge us!
What our WordPress projects offer:
Alignment with our objectives
Maximum degree of individualization
Designed for organic visibility
Optimized for conversions
Your benefits with our WordPress agency:
Concept, web design, programming, editing and marketing from a single source
No annoying briefing forms: we create rebriefings that you approve
First-class project management in German and English
Direct contact with experienced technical, design and marketing staff
Network of expert editors who speak the language of your industry
Expert knowledge from international SEO conferences is integrated into your project
Completion on time and without hidden costs
Why WordPress?
WordPress is free and open-source. In addition to our WordPress agency, a large community of developers worldwide use it for their programming. Documentation and knowledge sharing are taking place in a host of forums, GitHubs and blogs. This means you needn't worry about becoming dependent on a single provider.
In addition, there are numerous free and paid-for plugins that have been created and shared, so that additional functions can easily be added without having to reinvent the wheel every time.
The backend of WordPress is user-friendly and offers easy content management. You can maintain large parts of your website yourself without having to commission a service provider for every minor change. The learning curve for content maintenance is flat and we are happy to offer WordPress training as part of your project to help you get started even more easily – just let us know.
Is WordPress secure?
Especially among decision-makers in the public sector, local authorities and institutions, there is a perception that WordPress is insecure compared to other content management systems such as Typo3. The reason is that many cyber criminals specialize in attacking WordPress websites because of its popularity.
However, this argument is over-simplistic: For every criminal attacking WordPress websites, there are many times more developers identifying and proactively fixing vulnerabilities in WordPress before an exploit can actually occur.
The svaerm WordPress agency is located at the center of Frankfurt's creative and digital hotspot, Hanauer Landstrasse, within walking distance of the European Central Bank. We are therefore both regionally rooted and internationally networked: We are in constant discussion with the WordPress community, locally in Frankfurt and worldwide. We know the relevant data protection requirements and keep your projects up-to-date to minimize any security risks.
Services offered by our WordPress agency:
Project management:
Your direct contact person will ensure that your requirements are met, on time and in budget.
Concept:
You specify your goals, we take care of the rest. During the course of the project, we obtain your approvals, feedback and special requests.
Web design:
We optimize your WordPress project for your users in line with your CI. No reused templates, no copy & paste.
Programming:
Programming by our WordPress agency takes into account the latest standards, offers rapid loading speeds, can be expanded at any time and is 100% mobile-responsive.
Editing:
From crisp, emotional advertising copy to year-round content marketing on specialist topics ranging from the German Cash Register Regulation to hydrogenated styrene block copolymers: our interdisciplinary network of online editors is confident tackling a wide range of topics.
Marketing:
Using social media, social advertising and search engine optimization (SEO), we give your online presence the visibility it deserves.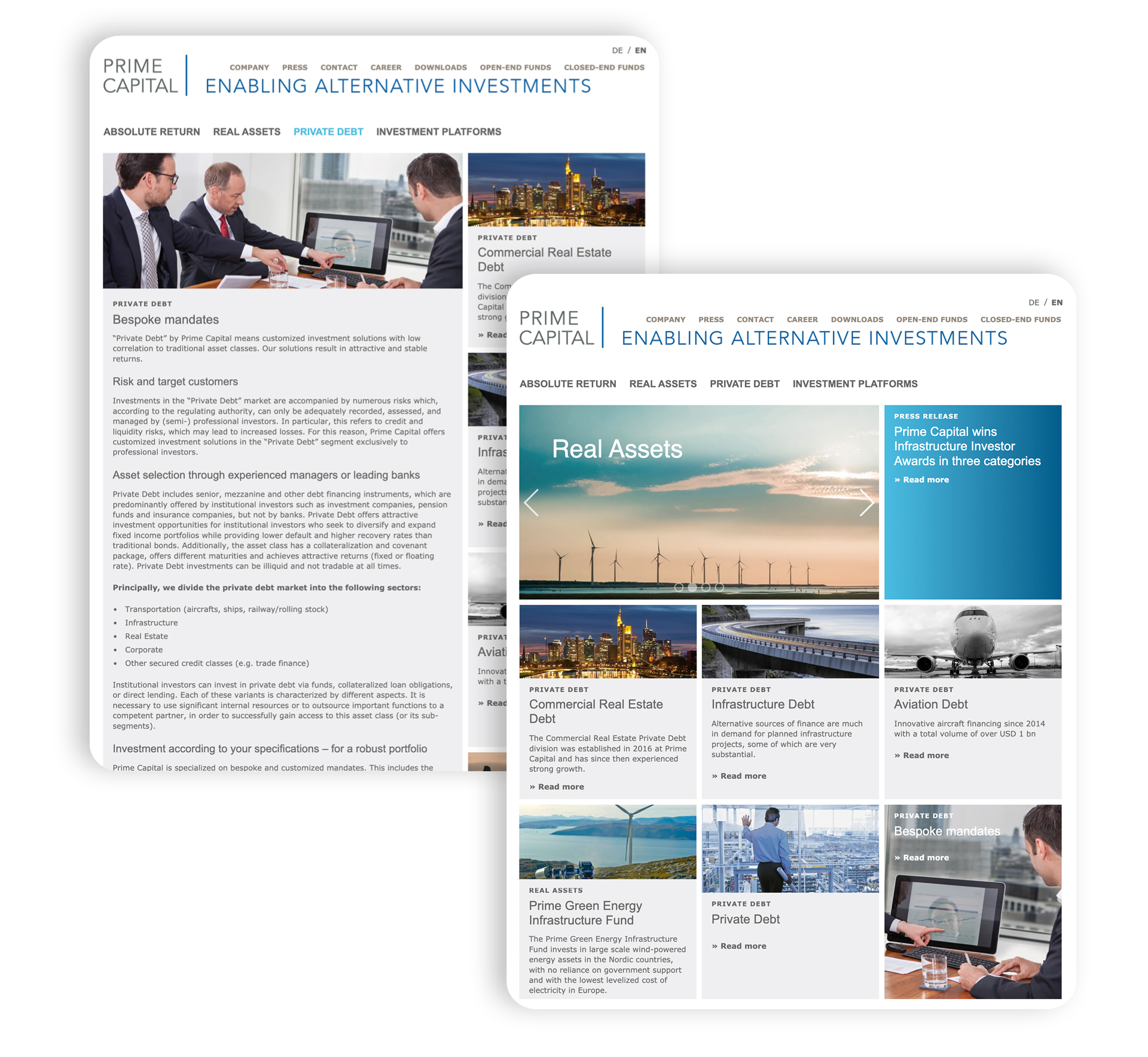 What we don't do:
Legal advice:
Please contact your data protection officer or lawyer.
In-house hosting:
Some agencies host client projects on their own servers in order to tie in their clients. We deliberately do not make use of this practice. Instead, we commission established corporate providers or work in your hosting environment.
Our process:
Steps marked * are optional, albeit recommended.
References:
After more and more customers started accessing our website via smartphone, we asked the agency to come up with a mobile-responsive redesign that fits well with Prime Capital and allows in-house maintenance. The agency designed a magazine-like navigation that translates our brand effectively into the digital sphere and always offers something new to returning users through the random arrangement of the individual tiles. The agency worked in an extremely focused and independent manner and the project remained on time as well as in budget. The result is impressive – we are very satisfied.
WordPress agency with ideas that fly
Interdisciplinary team with trained specialists
A passion for good design and SEO
Making customers out of visitors
Top project management, on time and in budget
Technologies
Contact WordPress agency