Facebook Lead Ads
Facebook lead ads allow you to collect the contact details of users who are interested in your products or services. These users are known as "leads" and the process as "lead generation".
The ads are ideally mobile-optimized and the forms they contain are pre-filled with the data that Facebook already knows about the user. The user only has to release the data for sending to the advertiser and can register for the offer extremely easily without having to leave Facebook.
The outstanding usability without the need for a landing page also has benefits for the advertiser: Because of the fast loading time, the user bounce rate is lower and lead generation is usually less costly as a result. Facebook targeting picks out users who are particularly receptive to leaving their contact details so that they are notified subsequently about interesting offers: Such targeting further increases the conversion rate.
As an online marketing agency, svaerm has rarely managed a project where an e-mail list is built without the use of Facebook lead ads. The aim of the current blog post is to explain this extremely popular advertising format. If you want to try it out for yourself, you'll find a guide here on how to get started. Alternatively, of course, you can commission someone else to create Facebook lead ads for you.
Benefits
Optimally addresses users on mobile devices
Reduces the number of bounces thanks to good usability
Efficient use of budget in terms of quantity of leads
Easy setup, enables lead generation without a website or landing page
Wide range of applications
Extremely detailed audience targeting
Double opt-in compliance possible manually or with third-party tools
Supports CRM integrations
Dynamic ads: A-B testing and automated testing of various creatives
Downsides
Facebook does not have its own automated solution for double opt-in
Because of the good usability, some conversions may be of fairly uninterested users
The ad format is susceptible to abuse by bots and click farms
Since some users only use Facebook privately and not for business, it is not always easy to identify the valuable B2B leads among them
Areas of Application / Intended Uses
Newsletter registration
E-book and whitepaper downloads
Sending discount codes to increase the incentive to buy
Competitions
Surveys / market research
As part of the recruitment process for new employees
Registration to an e-mail flow
Process / Step-by-Step Guide
To be able to use Facebook lead ads you need to have already created a Facebook fan page, set up Facebook Business Manager and have an ad account. We have tried to make this guide as straightforward as possible so that it is easy to follow even if you have no previous experience with Facebook Ads Manager.
1. Accept the Lead Ads Terms of Service
First of all, you must accept the Lead Ads Terms of Service for the fan page. You will need to accept the Facebook Lead Ads Terms of Service for each fan page.
2. Campaign: Creation
Next, go to Facebook Ads Manager and select the relevant ad account for your fan page. On the "Campaigns" tab, click "Create". Choose "Lead generation" as your objective and give your campaign a name. Then click "Continue".
3. Campaign: Other Settings
A detailed overview now opens on the right of the screen where you should see the campaign name and campaign objective. Here you can also enter special ad categories, start an A/B test and activate budget optimization at campaign level.
4. Ad Set: All Settings
At ad set level you will find settings for duration, budget, audience targeting and modulation behavior. Make sure you check all fields – particularly duration and budget – before release as otherwise Facebook will simply launch the campaign with default values. Audience targeting is vital for optimizing the return on ad spend – you can find more information about targeting here.
5. Ad Set: Placements
We advise against the use of automatic placements. It sometimes happens that Facebook develops new placements in which the creative (i.e. media/text combination of the post) is correctly displayed, but the display of the lead form is not supported. We therefore recommend manual placements and a manual check of all displays in Step 10 – and corrections if necessary.
6. Ad Set: Costs
"Leads" is the default setting as the optimization objective for ad delivery. We recommend that you do not change this setting as it is more cost-effective than the other options.
If you set a cost control per lead you may in some cases achieve a budget saving. However, Facebook does not run the ad if the costs per lead are too low. In our experience, one B2B lead in highly attractive, prosperous markets (e.g. here in Germany) can cost over € 20. Ads in international markets may cost less than € 1 per lead, depending on target region.
7. Ad: Creative / Media-Text Combination
No-one willingly gives away personal details without a good reason. Facebook therefore does not ambush your audience right away with your lead form; instead, it first of all displays a sponsored post consisting of media content (image or video), a text and a button with a call-to-action (CTA). Make sure before placement of the media, that you have all necessary usage rights.
Tips for Images:
Eye-catching visuals are required to increase user interaction, e.g. powerful colors, complementary contrasts and attractive motifs in the center of the image.
Clear, large-scale motifs are better than small, detailed image content that mobile users cannot properly appreciate. When releasing images, view them on a small display or from a few meters away.
Text in the image must be clearly legible on small displays but must only take up max. 20% of the image area, otherwise Facebook will display the ad in a reduced size. Rule of thumb: Maximum 4 words in the ad image.
Tips for Videos:
A 1920×1080 pixel format is suitable for landscape, 1080×1920 pixel for portrait. Both resolutions optimally use the entire screen content of the user.
Information should be easily accessible but not presented in an overly compressed manner. Too much complexity or "hot air" results in switch-offs. The length of the video depends on the content and will inevitably be short if the information density is good.
Subtitles are recommended for videos with narrators or dialogue as mobile users do not always want to or may not able to turn on the sound.
Videos should have a thumbnail giving a preview of the video content. Users who see something different in the video to what they expect will bounce.
Tips for Text:
Images and videos are attention magnets; the text is the accompanying information. In combination, the two elements must communicate a value proposition, arouse the user's curiosity and explain what the user should do.
The text should make it clear what the user can expect, e.g. a newsletter, an e-book, a discount code, a competition, a survey or an initial discussion with the sales team.
Use the language that your audience speaks. If, for instance, you want to generate B2B leads, using a B2B-oriented tone will reduce the amount of B2C leads.
Tips for the CTA-Button:
The CTA on the button should exactly reflect in terms of content what the user can expect (as with the text). Users with different expectations will bounce.
Different CTA wordings have different click-through rates. However, the focus is less on the click-through rate and more on avoiding user exits in the subsequent process.
8. Ad: Creating an Instant Form
Click "Create form" to open the form editor. The editor has two tabs: "Content" and "Settings". Both contain important settings and should be checked individually for each form.
On the "Content" tab, you can choose between "Higher volume" and "Higher intention to buy". The only difference here is whether the user is asked to check their data again before release. This check entails an additional input for the user and therefore lowers the conversion rate, but it also serves to filter out less interested leads.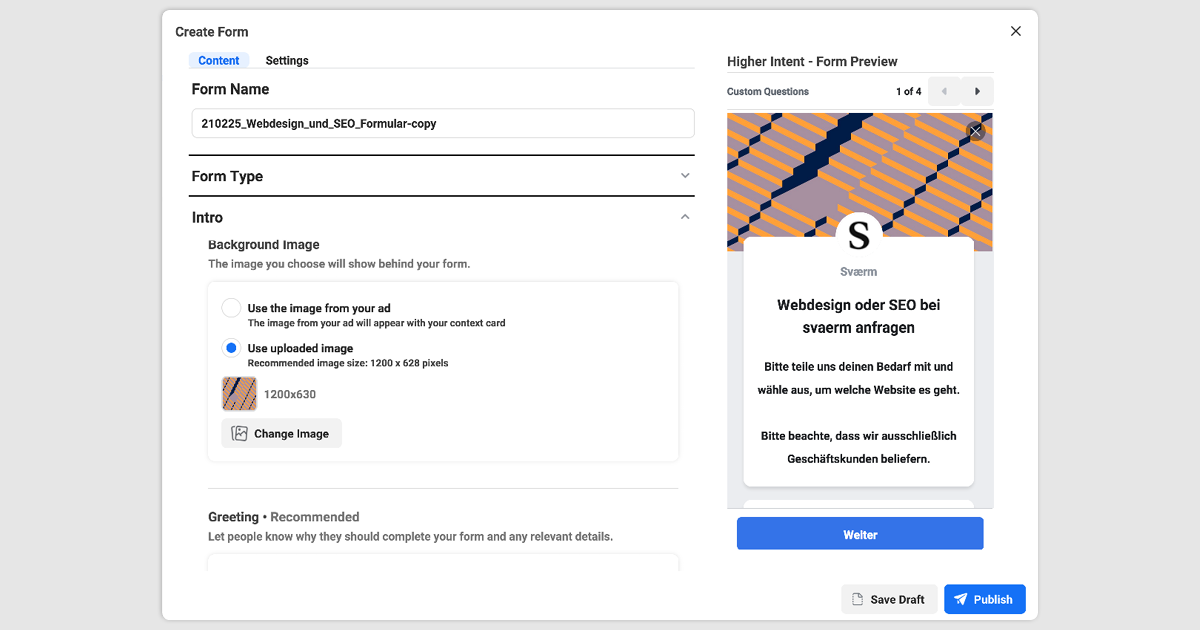 The form itself starts with a combination of text and image. This time, the image does not have to catch the user's attention; instead it has a decorative function or an ad message reminder function to retain the user's interest. And the text can be somewhat more practical this time. It must explain to the user what they need to do and what they can expect. This part of the lead form is also known as the "context card".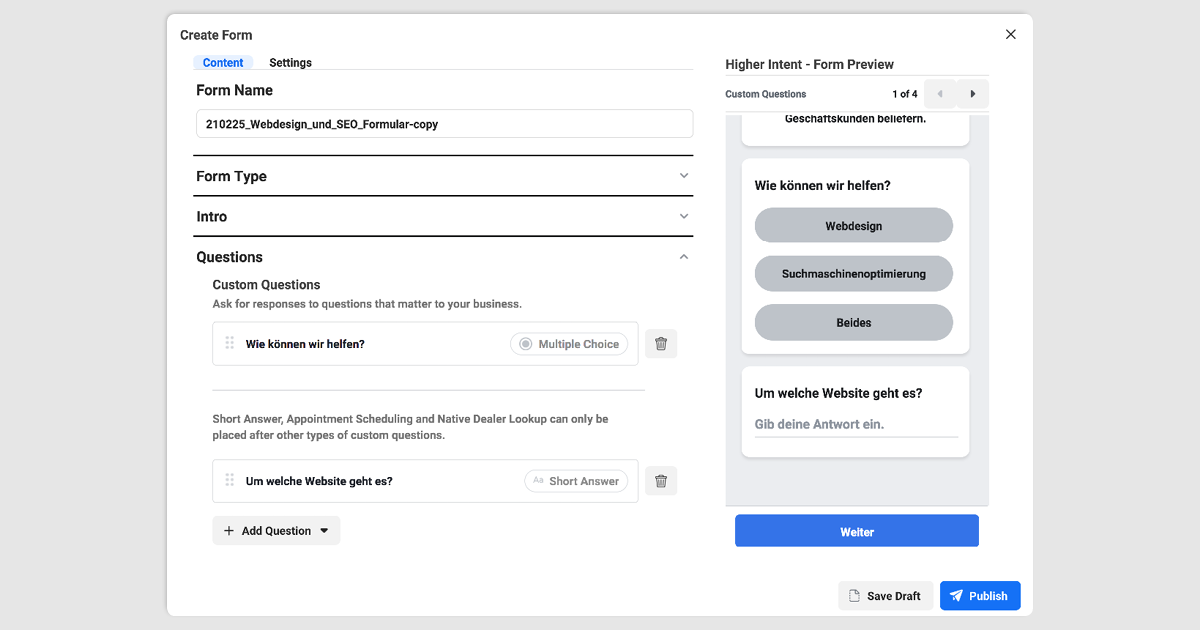 The next step is to write the user-defined questions in the form and to define the type of answers – multiple choice, short answer etc. Facebook puts up to two questions on a slide and inserts new slides for further questions. Each additional question represents a win in terms of information gained but also increases the bounce rate.
In addition to user-defined questions there are also questions about user details for which Facebook has already filled out the answers if the user has previously shared these details with Facebook. You must determine which user information is shared. For instance, an e-mail address may well be sufficient for a newsletter subscription, but demographic data may be of interest in the case of a market research survey. It is completely up to the user whether they decide to give their data to you, and they can discontinue the process at any time.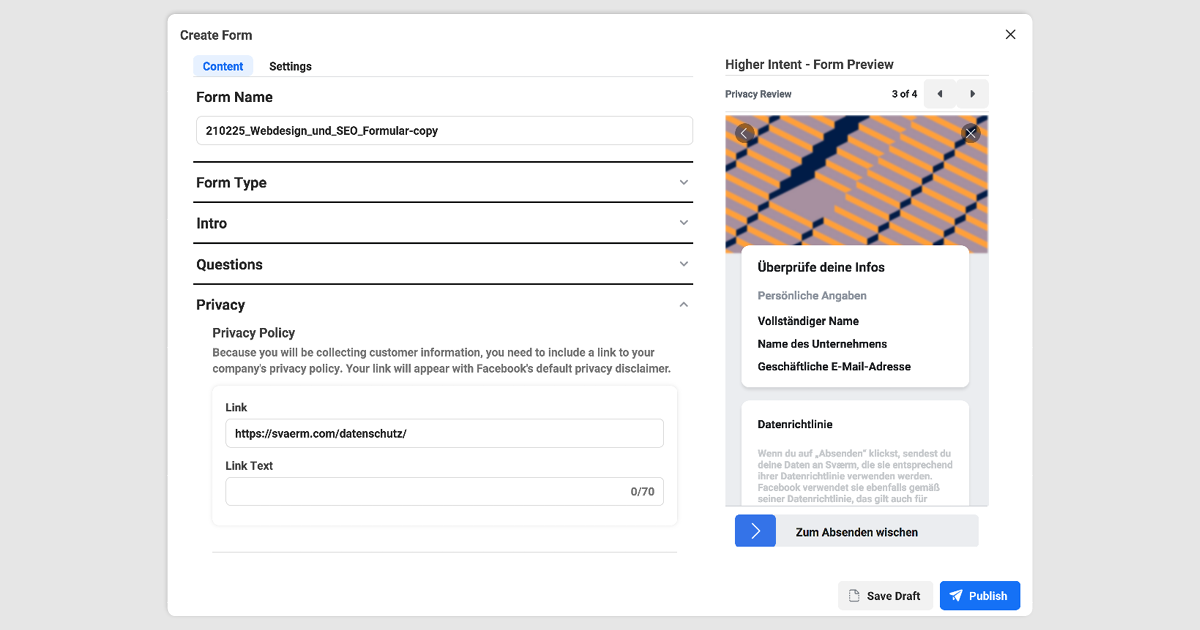 In accordance with the GDPR, you need to state in the data policy on your company website what user data you collect and what you use the data for. In line with current regulations, you must also list the Facebook tools you use and how they work with regard to user data. The link to your data policy will also be embedded in the Facebook lead form and displayed together with Facebook's standard data policy*.
If you have selected "Higher intention to buy" as the form type, you will be shown (for information purposes) what the user sees when they are in the review stage of the lead form. Continue with "Complete".
In the "Completion" section you can define what the user sees when they have completed the form. Explain here what happens next, i.e. when is the user likely to receive a confirmation mail?
Double Opt-In
In some countries, such as here in Germany, a double opt-in (DOI) process is required for legal reasons. This means that you must send your prospects an e-mail in which you ask (usually by means of a confirmation link) whether it was actually they personally who entered their e-mail address in the lead form. Otherwise, another user could misuse someone else's identity and give consent to receive ads and make business decisions, or similar on their behalf. You may only send offers to or add addresses to your mailing list etc. of users who have confirmed their identity. You are also not allowed to send more than one confirmation e-mail or reminder; a second (or subsequent) e-mail is deemed to be unauthorized contact.
Unfortunately, Facebook does not have its own automated solution for ensuring legal compliance in countries where double opt-in is required in accordance with local law. However, you can link various third-party tools to Facebook lead ads (more on this later) or simply send the confirmation e-mail manually. The confirmation e-mail should be sent relatively quickly otherwise your leads will lose interest.
In e-commerce, especially in the case of sending discount codes for low-involvement products in competitive markets, there is no way around automation using a third-party tool. However, for instance, in the market for higher-priced B2B services with a high degree of customization, decision makers tend to wait longer for offers because of the complexity of the subject matter.
9. Ad: Configuring an Instant Form
On the second tab (Form Settings), you must select the language of the form. Incorrect language settings have a negative impact on conversions. Unless there are particular campaign reasons not to, you should change the "Share" setting to Open so that your ad audience can share the ad with their friends and you can thereby generate further leads – potentially for free.
In the following section, you can customize the field labels, for example to make them more descriptive or because a third-party tool may require it.
The "Tracking Parameters" function is aimed at advanced users and is used to clearly identify leads when they are grouped together with other leads, for instance in a CRM.
10. Ad: Ad Completion
Finally, you can again review and finalize your instant form and ad. Once created, instant forms can no longer be edited. However, they can be duplicated at any time – and the duplicate can be edited before saving it again. As a social media agency, we have found that form labels with dates can help with version management.
Examples: Lead ads directly from the practical experience of our customers
For data protection reasons, our lead ads use double opt-in for identity confirmation – automated with a third-party tool or by manually sending an e-mail with a confirmation link.
Ambiente Lead Ad
With these Facebook lead ads, we added over 30,000 new contacts to the newsletter mailing list of the Ambiente blog, a B2B trade fair magazine for the consumer goods sector.
Conzoom Solutions Lead Ad
The newsletter of the Conzoom Solutions trade magazine gained hundreds of European retailers as subscribers with our Facebook lead ads.
svaerm Lead Ad
We also use Facebook lead ads for our own marketing. We generate leads for our services, e.g. web design and search engine optimization.
Targeting
There are essentially three forms of targeting for Facebook lead ads: Saved Audience, Custom Audience and Lookalike Audience.
Saved Audience
A Saved Audience is based on location, age, gender, language, demographics, interests, behavior and connections. The targeting is extremely detailed: The location can be broken down to individual neighborhoods, the relationship status (as part of the demographic information) can be differentiated (e.g. date of a couple's engagement); and, in terms of interests, all options are available for which there is a community on Facebook.
Custom Audience
A Custom Audience uses data sets from other sources that are uploaded to Facebook and matched with Facebook's user data. Precisely these users are then targeted on Facebook – or similar users through combination with "Lookalike Targeting". The limits are solely those set by law: However, in countries with strict data protection regulations, the explicit consent of the data subjects for their data to be used is lacking when it comes to most imaginative ideas around advertising using Facebook Custom Audiences. This type of approach is therefore rarely used in countries such as Germany*.
Lookalike Audience
A Lookalike Audience can use any input or core data set and identifies users within a target area with similar characteristics to the input. Companies that are already reaching the right audience via their online channels can use this method to optimally expand their mailing lists (including newsletter mailing lists) with the help of lead ads.
Possibilities and Limits of Targeting
In addition to the three "standard" forms of Facebook targeting described above, combinations are possible, and it is likely that even more possibilities will come online over time. Simple applications, e.g. addressing your own Facebook fans to draw their attention to your newsletter with lead ads, are of course also a possibility. Existing contacts can be excluded so that the ad only reaches new leads.
If you know your audience well, you will be able to find the right tools on Facebook to reach a proportion of the relevant people. However, it also requires some form of prior market research or customer survey and that the entire audience strategy is not based on assumptions. It may sound obvious, but unfortunately this approach is not always followed in practice. Luckily, though, Facebook lead ads can also help with surveys.
How to collect the data
There are several possibilities for exporting from Facebook the leads and the answers to the questions in the instant form: Manual export or automated export, e.g. via Zapier or CRM integration.
Manual export has the advantage that there are no additional costs for a third-party tool. The process is quite simple and can easily be implemented by junior staff, provided they have been sensitized to the importance of handling user data carefully and in compliance with legal requirements. The manual option is OK for an initial test pilot but is very time-consuming if you have to do this frequently.
Unfortunately, manual exports are sometimes forgotten in day-to-day business. Moreover, leads can "go cold" if there is too much of a time gap before the confirmation email is sent: They may lose interest, take up an alternative offer or simply forget they have registered. In addition, Facebook automatically deletes leads after 90 days – if you wait that long, you've lost the opportunity altogether.
The automated export option gives rise to additional third-party costs, which can be significant depending on the tool used. In addition to the external costs, setup also takes time. Organizations that use Zapier usually automate several processes at once with it, and companies that fill out a CRM are making a long-term decision. How a company handles customer data as a whole has direct strategic consequences.
Manual Export
How a manual export using the Facebook Ads Manager works: Open the "Ads" tab of a lead campaign and scroll to the "Results" column. If the ad has generated leads, there will be a download button to export the leads as an Excel file or CSV. If you cannot see the "Results" column, display it by clicking the blue plus sign at the right edge of the table header.
How a manual export using the Facebook fan page works: Open your Facebook fan page. If the URL is https://www.facebook.com/yourfanpage, add "business" to the address: i.e. https://business.facebook.com/yourfanpage. Then click "Post options" on the header menu. Depending on the width of your browser window, the menu item may be hidden under "More". This menu item is only visible to administrators and persons with appropriate access rights from the Business Manager. Click "Lead Ad Forms" in the left-hand column. This item is only visible if you have placed lead ads. A table now opens where you can download your leads (as an Excel file or CSV).
How the import works depends on your e-mail service provider or CRM. The CSV file format is more often supported than Excel files. Some third-party tools require manual column assignment, others do this automatically. In Step 9 of this guide for creating lead ads (see above), you have the option to customize field names to simplify the import into third-party tools or to make it possible in the first place.
CRM Integration and/or Automation
You can find a list of all CRM integrations officially supported by Facebook by following this link: Available CRM and customer system integrations for lead ads.
You can find out how to connect a CRM system to your Facebook fan page here: Acquiring leads using a CRM system.
The initial set-up of a CRM can be time consuming and your customer data may need to be prepared before it can be imported if it has previously been recorded in different formats.
Other Implementation Tips
Test Different Audiences
It is very difficult to predict in advance which combinations of ads and audiences will work better than others. Most companies lack the data to make this sort of forecast. And even if the data is available, there are usually so many factors involved that it is practically impossible to attribute success or failure to individual variables with any degree of certainty.
This is why trial and error is an essential part of the process – even in social media agencies, which offer their clients significant added value with their expertise and wealth of experience. Do as the experts do: Divide up your campaign period into a test phase and a growth phase. In the test phase, test as many different audiences as possible with a small, capped budget; the main budget can then be optimally assigned during the growth phase.
Perform an A-B Test
In addition to running ads in parallel with different target groups, you can also run Facebook A-B tests, which directly compare two ads over the course of a campaign. This keeps all variables constant except one and creates a natural experiment that is as far as possible not affected by interference. The variables you can test are: ad design, target audience, delivery optimization, placements, product range and other user-defined variables.
Use Retargeting
Facebook allows you to create a Custom Audience consisting of those users who have interacted with your ads in the past.
Alternatively – or additionally – you can use another Custom Audience to target users who have read several pages on your website but have not registered for your newsletter. For the second Custom Audience, you need a Facebook pixel on your website with the events "PageView" and "Lead" as well as the relevant consent of your audience to receive advertising.
Once this is set up, you can retarget your lead ads to those preselected users where the advertising impact is likely to be greater.
Try out Dynamic Ads
Facebook dynamic ads enable you to store different images and texts for the same ad. The algorithm then independently tests the various image and text combinations based on different audience segments and gives preference to displaying what works particularly well. This means you can increase the advertising impact and the return on ad spend.
Combine Lead Ads with an E-mail Flow
Because Facebook lead ads are very user-friendly, they have a wide appeal, including to marginally interested leads who must first be pre-qualified before they are receptive to sales offers.
An e-mail flow is a timed chain of e-mails that build on each other. It can be used to process marketing-qualified leads into sales-qualified leads and prepare them for a sales close. In this respect, an e-mail flow can be a really useful complement to Facebook lead ads.
To clarify: Unlike a newsletter, e-mail flows are not sent cyclically based on an editorial schedule; instead they are sent cyclically depending on the time of registration and other actions of the individual user.
Follow-up
The following points are particularly important when contacting leads:
Contact may only be made if a double opt-in has already been performed (via an e-mail with a confirmation link to avoid identity misuse). There must be consent from the user for the purpose of the data collection*.
The sending of the confirmation e-mail and the next steps must take place as quickly as possible to keep the user interested – especially in e-commerce.
Most leads need to be pre-qualified before they are ready to make a purchase. User data, answers to user-defined questions, e-mail newsletters or e-mail flows can help with this.
Conclusion
Facebook lead ads are a simple but effective lead generation tool. They have many benefits – both for users in terms of convenience and usability, and for advertisers in terms of targeting, budget efficiency and multiple application possibilities, including in mobile placements.
It is worthwhile for most companies, to at least start a serious test pilot with Facebook lead ads. Companies that would like to benefit from the expertise of a professional social media agency or achieve better scaling can have Facebook lead ads created for them.
*Note: The content of this website does not represent legal advice.